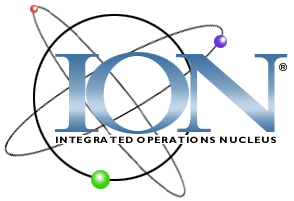 ION/88
The DTRS Format family, comprising the TASCAM DA-88/98/98HR/38 and SONY PCM-800 modular digital multitracks, instantly connects with existing technology and techniques within the studio mainstream thanks to its complete ION compatibility. Standard ION system software supports control of a time code capable unit, complete with track arming of the machine's 8 digital audio channels. The DTRS format's own internal machine to machine synchronization allows you to add up to 15 "slaves" to the ION controlled transport. For extremely comprehensive control of various parameters on up to 16 individual machines in such a chain, this optional ION/88 software module is highly recommended. Only one ATOM port is required per group of 16 DTRS transports operating in this manner.
a dedicated color display screen is provided to graphically illustrate the status of the parameters on up to 16 machines at once
independent "track arm" and "track slip" control and status of each channel on up to 16 machines for a total of 128 channels
independent remote "crossfade time" control and status of all 16 machines
independent transport control, machine "offset", GOTO and shuttle capability of each machine in a chain of up to 16
independent current "absolute time" display from each machine
exclusive and comprehensive "error" reporting, displaying error type and machine involved
tracks are displayed as "1 through 8" for each machine, as well as cumulatively. Thus, track #5 on the eighth machine is simultaneously displayed as track #61
remote access to the DTRS time code generator, including time code track arming, generator time set, and run. "Auto-start" feature automatically trips time code generator, at user defined generator start time, at the Absolute time of your choosing. This allows tapes to be pre-striped with a common time code/absolute time relationship, which is exceptionally useful for multi-machine operation
up to six user-definable machine status displays are simultaneously available on the main control screen, so that DTRS track arm/slip, machine offset and error status can quickly be viewed along with all other devices currently under ION control, as well as EDL activity. Errors detected on any machine cause a clearly visible red warning light to flash on the control screen, even if that particular unit is not currently being displayed
ION Sequence Keys are fully functional within the ION/88 module, providing for "one key" slipping of one or more tracks in a positive or negative direction, as well as multiple track arming
control can be extended over up to 8 groups of 16 units, totalling 128 machines and 1,024 digital tracks!
Back to Soundmaster Group Home Page