Soundmaster Releases the Power of ATOM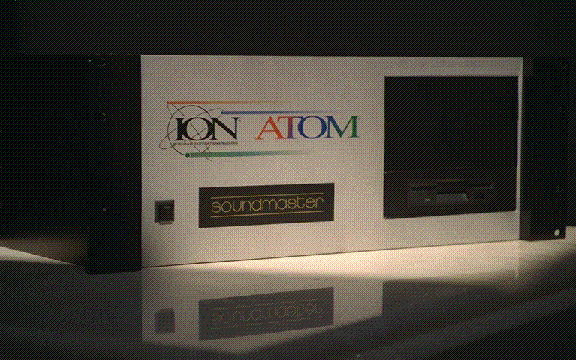 ATOM is a major initiative from Soundmaster Group that forms the hardware core of the ION Operating Environment. Representing over 30 years of high level motion control and device integration experience, ATOM contains the capability of multiple Soundmaster SYNCRO units, the most sophisticated and fastest locking synchronizer ever developed, in a single, cost-effective, high quality package that does not require a separate computer. ATOM goes further by incorporating new features to effectively integrate the devices of the future, and supports a field upgrade path that eliminates obsolescence via its unique modular design.
---
Priced to be the value leader in the industry, systems start at 4 machine control complete with powerful Edit Decision List capabilities. The legendary sophistication of Soundmaster is now extremely affordable.
---
ATOM is a perfect "bridge", blending traditional ramped biphase/time code motion control with industry-leading cut, copy and paste integration of non-linear "digital dubbers" and DAWs, and everything in between. ATOM consolidates a variety of controllers into one.
---
New high-resolution ION control screens, developed for use with ATOM, evolve Soundmaster's pioneering philosophy of providing easy to read information at a glance through the effective use of color and graphics; user-programmable with disk-based storage for maximum versatility.
---
Standard ION software comes complete with Soundmaster's patented SMART SYNC time compression/expansion feature; cross-synchronization between all time code formats; comprehensive EDL facility including autoconform; Sequence Keys for easily customized routines; recall of individual user setups from disk with one keystroke; autocalibration of controlled devices.
---
Optional ION/88 module facilitates control of up to 16 DTRS machines (Tascam DA-88/Sony PCM-800) from one serial port, with exclusive track slipping, arming, crossfade control and more, while providing the fastest lock in the industry.
---
Integral, multi-standard time code generator can be a "Master" or "Slave".
---
Ancillary GPI Input/Output supports remote control from existing user interfaces.
---
Powered by an Intel Pentium processor, running 100% assembler language software without the overhead of a consumer operating environment. The result: exceptional speed with immense power, with substantial headroom to accommodate future products.
---
Serial remote control units that rely on a controlled device's built-in synchronizer suffer from "the weakest link in the chain" syndrome; SMPTE to EBU syncing, reverse lock and SMART SYNC (which ATOM can do simultaneously!) aren't found in "garden variety" synchronizers.
---
       Pentium is a registered trademark of Intel Corporation.
       ION, Integrated Operations Nucleus, and SMART SYNC
       are registered trademarks of Soundmaster Group.
       ATOM is a trademark of Soundmaster Group.
       © Copyright 1995-2017  Soundmaster Group.  All rights reserved.
Back to Soundmaster Group Home Page