ION with VIRPAD delivers film monitoring solutions
We continue to work closely with console manufacturing partners such as Harrison, Euphonix, AMS/Neve and SSL to support their built-in record control and film monitoring functions with our downstream solutions. For those consoles or DAWs that don't offer their own onboard capabilities, Soundmaster ION, featuring our VIRPAD paddle version, delivers a full featured, extremely reliable digital package that, unlike competitive concepts, is not limited by the monitoring capabilities of your DAW!
For over six years, Disney has been using dual VIRPAD paddle units mounted into their ICON consoles for the dubbing of hit series such as "Lost" and Technicolor Hollywood also used dual units, one built-in and one floating on their ICON consoles. The LA Film School instructs their students using this unique product. Soundmaster Group's solution provides traditional paddle-based record and monitor control that is totally integrated into our existing award-winning ION operating environment. Soundmaster can make use of internal DAW capabilities when available such as those we have pioneered with development partners such as Avid. In fact, we are the only paddle controller available that is custom designed to perfectly fit into the ICON D-Control console. But we don't limit you as others do. Soundmaster delivers a very robust, reliable and feature-packed digital monitoring solution that is cost-effective and independent of the recorder!
photo courtesy of RSPE Audio Solutions, Los Angeles©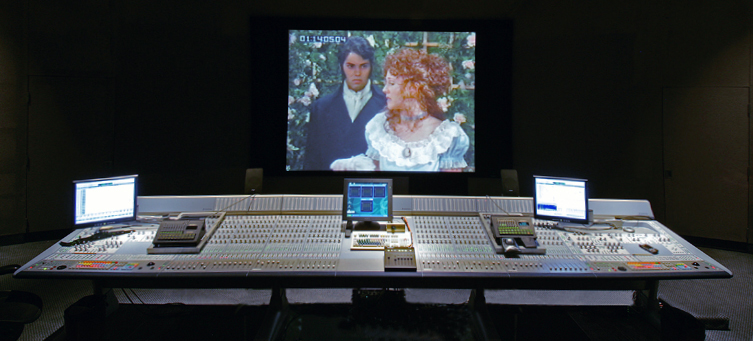 Two VIRPADs with film paddles on ICON script trays
Features include traditional record control on tracks or stems, individually or via a master paddle with ready/safe assignment. Separate PEC/DIR functions have the same feature set, as well as solo and mute on a per track, stem or master basis. Furthermore, rather than forcing you to use yet another user interface for your motion control, rollback, GOTO and numeric keypad functions, our fully programmable, dynamically labelled VIRPAD easily switches between your film monitoring setup and motion control needs. The paddles remain dynamically labelled while less often used monitor function buttons such as mute and solo can be temporarily substituted with motion control features, if desired by the user. You get two user interfaces combined into one, something that is sorely needed in this age of keyboard and monitor clutter.
Soundmaster Group has employed the same philosophy for high quality digital PEC/DIR monitoring as we did in 1998 when we revolutionized automated monitoring for Ahead/Loop/Past-style ADR. Our role is not to process sound ourselves, but instead to integrate existing world-class products to deliver a seamless solution. Want to learn more? Please contact us for further information.
© Copyright 2005-2017 Soundmaster Group
Back to Soundmaster Group Home Page