THE ION COLOR TOUCH SCREEN

Soundmaster Group introduces an exciting new product that will allow our users to easily tap into the vast resources available within the award-winning ION Operating Environment. Our new Touch Screen is totally programmable, in keeping with our concept of providing comprehensive customization tools for our clients. The features of ION's powerful "solutions engine" can now be presented and accessed in a familiar way. Users comfortable with other interfaces can customize ION to look similar, facilitating a more natural transition.
RTL Television in Cologne, Germany, was the first to purchase and install a Studer Vista 7 digital console and are also now the first to complement the console with a Soundmaster ION system with onboard ION Touch Screen. By combining the extremely intuitive and powerful design of the Studer Vista 7 with the unparalleled device integration capabilities that ION provides, RTL is at the leading edge of a new era where console manufacturers focus on what they do best and hand the baton to ION to do the rest. Furthermore, the ION/Vista 7 option enables 16 buttons on the console to be programmed as Sequence Keys within ION as if they were SHUTL keys.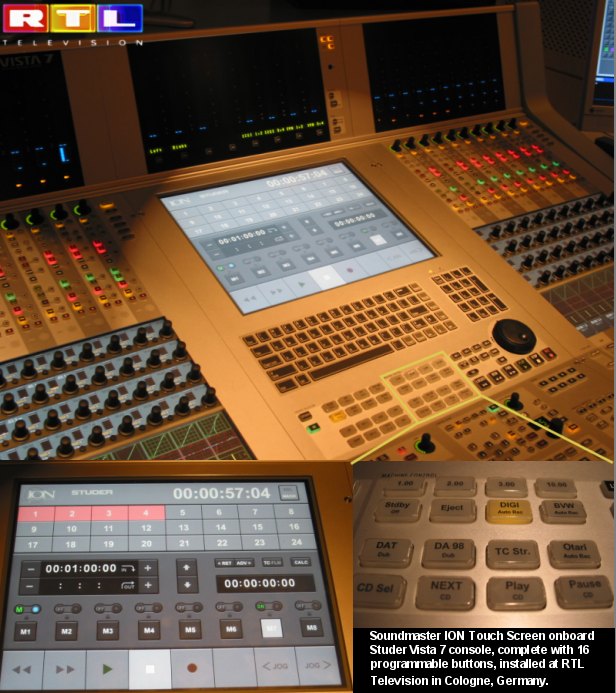 Universal Studios was the first to install new Harrison MPC3-D digital consoles with two Soundmaster ION touch screens onboard.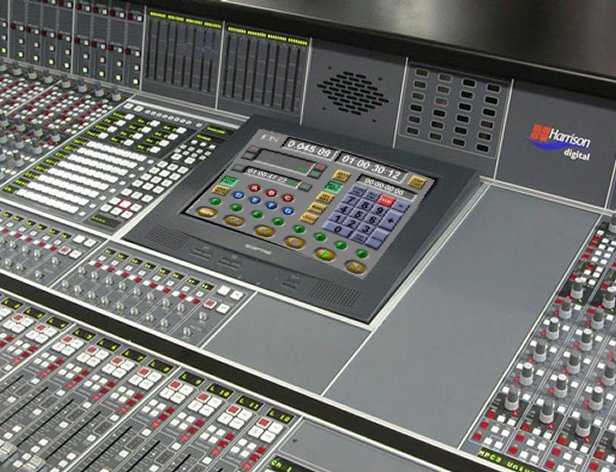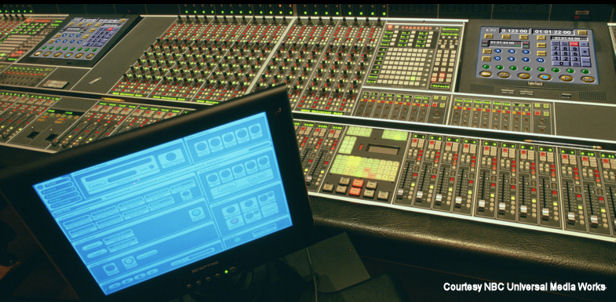 Universal Studios has Soundmaster ION touch screens onboard all of their Harrison MPC4-D consoles such as this one on one of the biggest consoles in the world, installed in the Hitchcock Theatre. A similar mounting scheme is used at Interaudio in Berlin, Germany.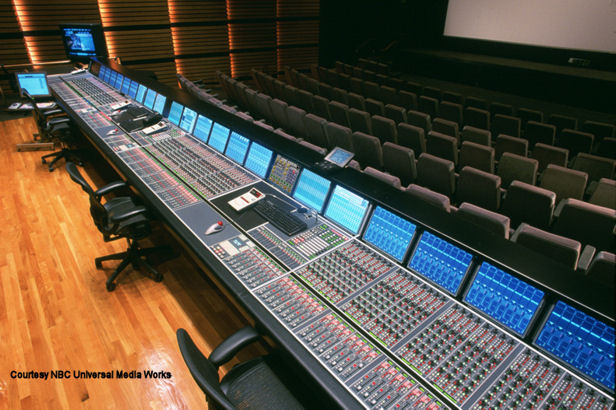 Many Harrison MPC4-D consoles in Germany have small Soundmaster ION touch screens in the fader area. This includes Bavaria Bild & Ton in Munich, dffb in Berlin and this installation at the new MMZ in Halle.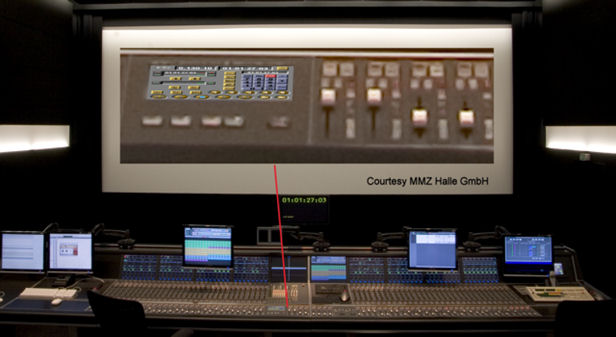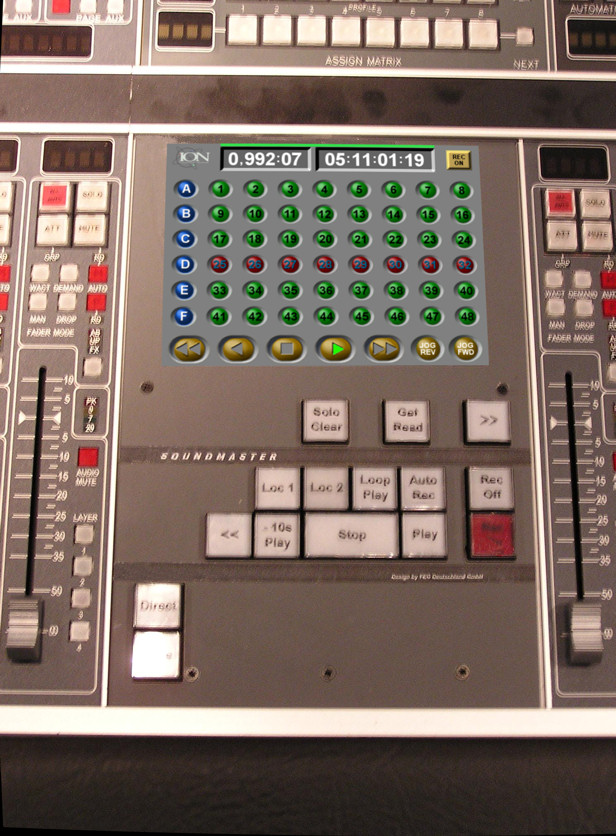 Representing the best of both worlds, VIRTOUCH™ combines our VIRPAD and Touch Screen technologies into a single unit, as shown mounted in a Harrison MPC4-D at Beijing Film Academy in China.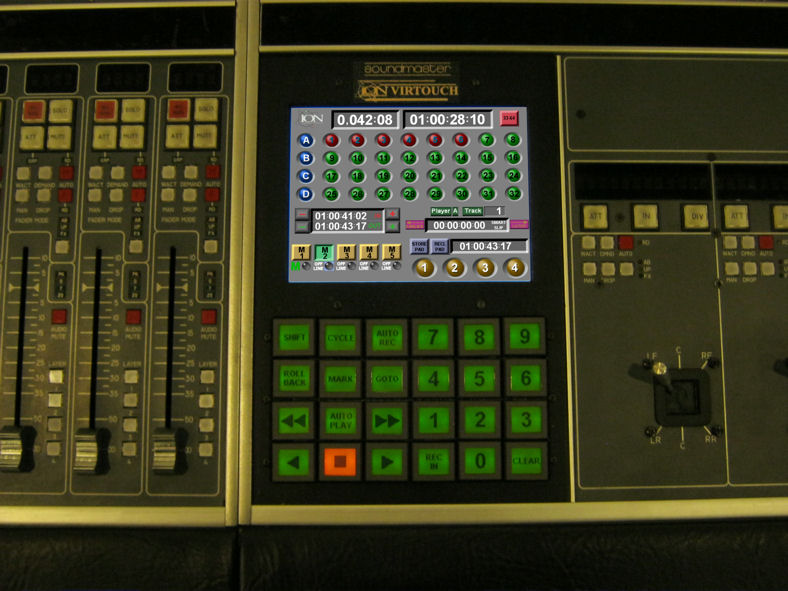 Euphonix now offers the Soundmaster ION touch screen as an option on the System 5 digital console, extending the onboard motion control capabilities in a user-programmable way.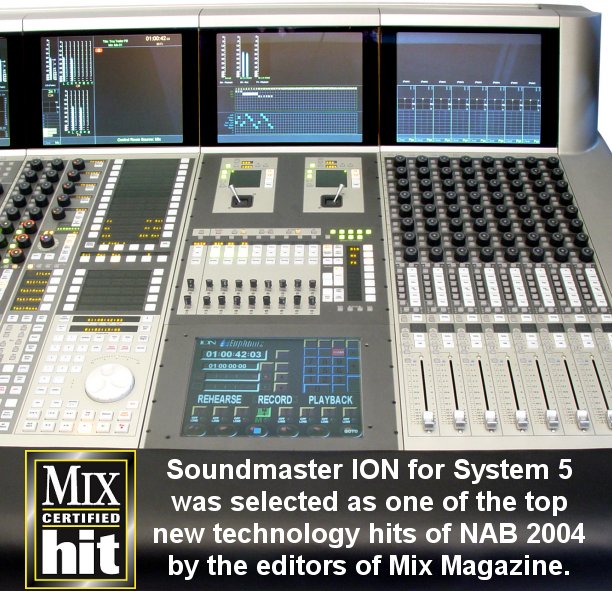 Soundmaster clients such as Universal Studios, Ascent Media, Soundtrack New York, Sony Pictures Studios and 20th Century Fox were the first to purchase LCD touch screens of various sizes and interface them with the new ION custom interface electronics and software. Pictured below is a photo provided by Bob Chefalas of Soundtrack New York. Used for ADR, Bob packaged this 10 inch TFT LCD touch screen and supplemented it with hardware motion controls and ancillary switches that are programmable within ION.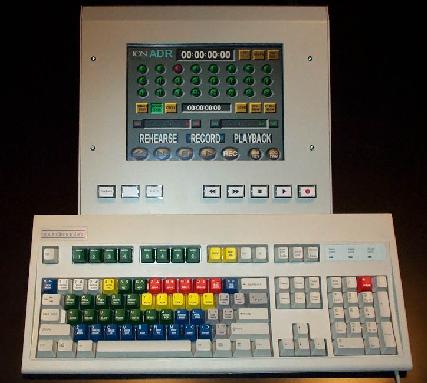 Back to Soundmaster Group Home Page