Video Editing
Tired of doing multiple passes and generations to edit 01:00:00:00 of an HD master to 01:00:00:00 of an SD downconversion?
Cut your time in half, save a generation and make your clients happy in a single pass using ION Eclipse 24/25/30!
Successfully used in major Hollywood facilities for over 18 years
Soundmaster Group's unique "Eclipse 24/25/30" module and patented SMART SYNC® facilitates interformat, field accurate video editing between HD and SD formats containing different time code types
Precise, reliable editing among HD, PAL, PAL OS (Slow Pal), and NTSC devices (includes 24 fps to 25 fps, 25 fps to 24 fps, 23.98 fps to 29.97 fps and 29.97 fps to 23.98 fps) with ability to start on A, B, C or D frames when applicable.
Exclusive ION "Eclipse 24/25/30" touch screen GUI, specially produced for this editing application, makes it easy for everyone to perform as an "editor" and conceals the complexity of integrating multiple standards simultaneously
Completely integrate SRW-5000 (full 12 audio channel arming), HDCAM and D5-3700 with SD formats
Typically used for up/down conversions and/or mixed frame rate edits, where video is being processed by standards converters such as the Snell & Wilcox UKON, Panasonic UFC, or TeraNex
Frame-accurate, real time interformat program time compression/expansion editing (via direct varispeed control over industry standard dynamic-tracking video transports such as Panasonic D5-3700 or Sony DVW-500). You can actually fast forward to the end of a program with full varispeed synchronization! There is no need to stay in "play" mode like other systems.
Provides perfect alignment of "A Frames" when 24 fps (23.976) and 30 fps (29.97) devices are being synchronized. Soundmaster Group is the only company, to our knowledge, that has achieved this remarkable feat without the need for multiple external sync inputs and/or 6 Hz pulse generators!
"Eclipse 24/25/30" provides perfect synchronization on the first edit attempt, alleviating the need for simultaneous "backup" recorders to check to see if the edit was correct
Embedded, programmable compensation for video processing delays allows user time code data to represent actual program points
Exclusive software manages the fractional field video delay experienced with the Panasonic UFC
Pickup anywhere into the program using the initial sync "pivot" point by simply choosing the appropriate Edit In on the Record Machine; ION knows exactly where the Source should be automatically!
Produce a conformed long play record from two source reels with ease, maintaining 2:3 pulldown relationships when applicable
Most editing systems can't even deal with mixed time code, yet alone one code that is running slow, but ION can
Field accurate editing, including field 2 pickups
Independent, user programmable Jog/Shuttle of each machine
Full Assemble and Insert capability with remote track arming
All synchronization is handled by ION and can be adjusted by software setup files; no manual adjustments whatsoever
Separate sound source (such as DA-88/98, DAT) can be simultaneously synchronized along with Source video, and independently cross-locked and varisped with SMART SYNC
Simultaneous clear, color graphic representation of system status including real time machine tallies
Unique "difference" or "offset error" display shows a constant, numeric relationship between the Source and Record machines' time code, even when one is Slow PAL and the other is NTSC Drop, Non-Drop or 24fps
Complete industry standard EDL import and export, as well as comprehensive list management, sort, ripple
Proven reliable in the world's most prestigious facilities
Exclusive "ATOM CALL HOME" real time online support by standard modem provides an umbilical cord to the designers
Winner of a Scientific and Engineering Academy Award and Prime Time Emmy Award for Outstanding Engineering
One press of the "START HERE" button on this powerfully simple touch screen user interface guides the operator through a progressive sequence of steps to set up the edit. Machines are detected automatically, multiple recorders can be selected and the system prompts the operator every step of the way. When "REHEARSE" or "RECORD" are pressed, all machines involved in the edit are automatically brought online. We are proud to present a user interface that truly simplifies an exceptionally sophisticated behind the scenes process.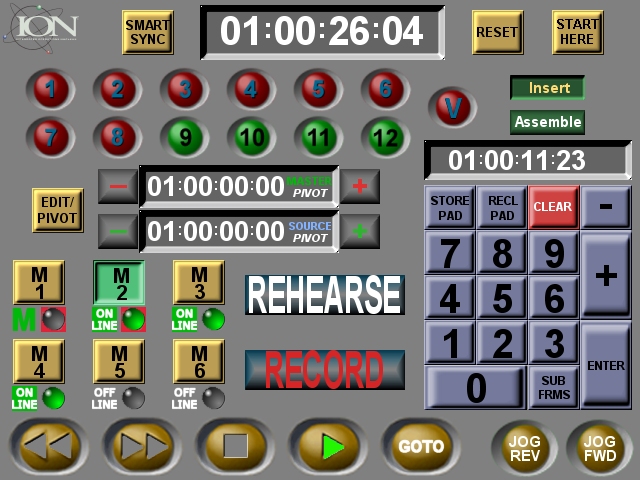 Back to Soundmaster Group Home Page